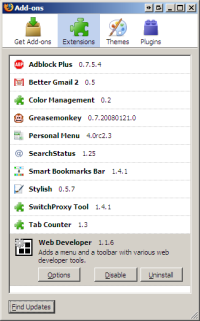 It is time once again to share my list of Firefox extensions that I use on a daily basis. All extensions on the list have been updated for Firefox 3.
Adblock Plus 0.7.5.4 - this is a longtime favorite. Its features rarely change, but there are continual bugfixes and compatibility updates. The heavy lifting is done by downloadable filter sets.
Better Gmail 2 0.5 - provides keyboard macros that I can't live without. Also features a ton of other stuff that I never use.
Color Management 0.2 - enables FF3's new support for color profiles. Currently disabled because the color profile for my Dell monitor at work is broken, and I can't get any answers on how to build a new profile.
Greasemonkey 0.7.20080121.0 - this one is mostly here to help me download videos from YouTube, but it has other small uses as well. I'm finding lately that Stylish handles most of the tasks for which I originally used Greasemonkey.
Personal Menu 4.0rc2.3 - it's been a while since this one has been updated on mozilla.org, but the 4.0 release candidates are rock-solid on FF3. This extension allows me to reduce the menu bar functionality to a single button on my navigation toolbar.
SearchStatus 1.25 - shows Google PageRank, Alexa rank, and Compete rank in my status bar. This is unobtrusive and miles ahead of the old practice of loading three different toolbars just to see one number from each.
Smart Bookmarks Bar 1.4.1 - unclutters my toolbars. With this extension, I am able to move my bookmarks to my navigation toolbar. Vertical screen real estate is maximized by only having one toolbar visible.
Stylish 0.5.7 - an essential extension for those times when there's a visual problem with a site that you want to fix. Or when you want to pimp Google Reader.
SwitchProxy Tool 1.4.1 - used for switching between the various proxy servers at work.
Tab Counter 1.3 - shows a simple count of the number of tabs open at the far right side of the navigation toolbar.
Web Developer 1.1.6 - an essential tool when digging into a site to figure out how it works.
You may have noticed that the add-ons box in the picture looks a bit different. For that, I thank the Firefox 2+3 Slim Extension List style running in Stylish.
In following with the slimmed-down, optimized approach of Firefox 3, my extension list has been slimmed down as well. There are fewer extensions than last time. The extensions that remain form a solid core that provides a more productive experience for me on a daily basis.