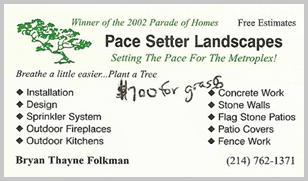 If you live or work in the Dallas-Fort Worth area and are considering the services of Pace Setter Landscapes and its apparent owner, Bryan Thayne Folkman, this post is for you.
Late last summer, upon recommendation from a friend of a friend, we hired Pace Setter to clean up some debris in our backyard, till up the underlying soil, and lay down some fresh Bermuda sod. My wife negotiated a deal that was favorable to both parties, and the work was done one day while we were at work.
I was excited to come home to a yard full of sod. It was a huge improvement over the wasteland that had once occupied the same space. I began the typical routine for new sod: watering, watering, and more watering.
The sod appeared to be doing quite well in some places and horribly in others. It was mostly around the edges of the lawn that it was having problems, and I noticed in those areas that it seemed to be almost floating above the dirt. In fact, there were some spaces where there was air between sod and dirt. So I began stomping on these spots, trying to work the sod down to the dirt's level.
After a few weeks, while walking around on the lawn, I accidently kicked up a loose piece of sod. Underneath, I discovered a big part of the problem. Pace Setter had neglected to remove the black landscape fabric that had been covering the dirt—fabric which we had specifically asked them to remove. This was a bit of an annoyance, but I wasn't upset enough to begin complaining because the new grass seemed as though it was improving.
So then a few weeks later, while out mowing the grass that hadn't died off, I stepped on a nail. This nail was attached to a large piece of wood and was just below a piece of landscape fabric, which was in turn just below the sod. At this point, I was furious. Pace Setter had obviously taken advantage of the fact that I was not there to see whether they removed any debris from my lawn before laying down the sod.
After I went and paid to get my Tetanus shot, we began calling Mr. Folkman. It took a couple of tries before we reached him. When we spoke with him, he was quick to inform us that he was not actually present when the work was done and that he was surprised that his workers had done this. He stated that he had never had a problem like this before. He apologized and was supposed to talk to his workers and call us back ASAP.
That was about seven months ago. We haven't heard a word from Bryan Folkman since, and unless he reads this post, I don't expect him to call.
So there's my story of our encounter with this company. Caveat emptor.